The joy of learning and teaching – unleashed!

All-in-One Digital Solution
Our digital learning solution set includes three proven products: iTrack, iBeeDigital and Camu. Camu is our campus management solution, ready for schools, colleges, universities and boards & ministries. iTrack takes off from where Camu ends; it combines Learning Content, Assessments, Mentorship, Job Opportunities and Internships and more. iBeeDigital is a Learning Management Solution designed for schools and universities. This suite of products virtually fulfils all training and development use cases out there. 
Learning Management Features
Rubrics-based assessments




Bloom's taxonomy based assessments

Video conferencing

Messaging & chat rooms

Class scheduling, assignments

Integrated CMS & LMS

AI chatbots

Staff & student records

Academic planning

Online assessments

Examinations

Lesson plans

Assignments

Attendance

Question bank

Analytics & Services
Campus Management Features
Admissions
Fee management
Transportation
Inventory 
Feedback
Library
Visitor management
Student activities
Communication
Hostel
Health Record
Payment gateway
Individualized Learning Features
Centralized Learning Management
Content Repository with interactive physical book simulation
Gamification features with rigorous analytics
Assessments with Offline Sync, Instant Feedback and Comparison Rank List
Individual Performance Tracking
Collaborative Doubt Solving
Open Source Content
Private Messaging and Chat
Share Anything with Peers
Notifications and Announcements
In-depth Analytics
Content Paywall and In-App Purchases
Detailed Self and Comparative Analytics
Access analytics like Self and Comparative Analytics, 
Self-appraisal through Mockups, Speed and Accuracy Analysis, and Strength and Weakness Analysis.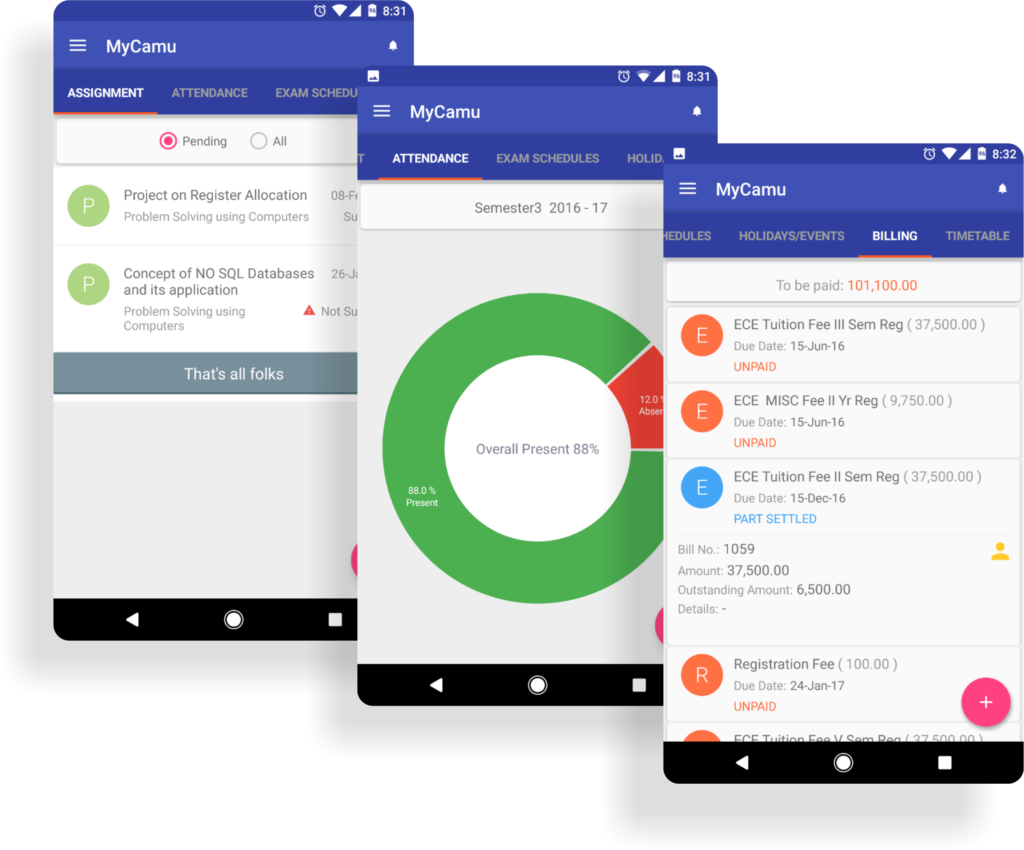 Students learn better by solving problems together and learning from each other. Collaborative doubt solving, private messaging and chat drive this outcome. 
Keep students engaged with games and exercises created with intent. Our gamification engine is complete with leaderboards, surprise bonuses and motivation.